Black Manta, Scourge of the Oceans!
The Black Manta has long been the bane of Aquaman's existance. Terror and Power are his tools of domination. His one goal is to destroy his half-brother, Aquaman, and destroy the undersea kingdom of Atlantis. In his last attack on Atlantis, Black Mantis killed Aquaman's toddler son, Arthur Jr. Who knows what their next encounter will bring.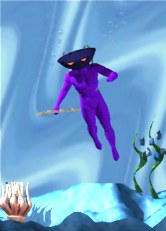 Download the evil files for Black Manta
Included in the zip file is the helmet .obj file, the cr2 and rsr file, a texture map for the apparatus, and, for RDS users, a glow map for the eyeports. RDS users should also note that the texture map for the helmet should be rotated twice before applying it to the element in the properties menu. Same for the glow map.